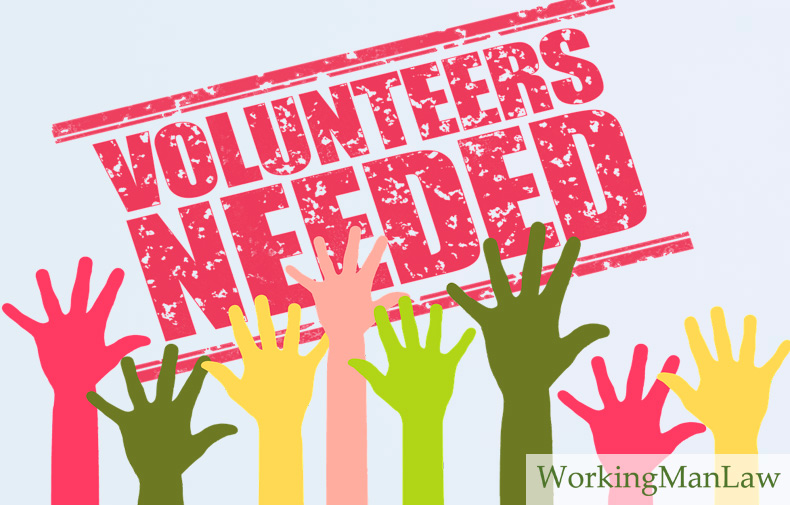 A non-profit organization relies on volunteers to make its mission function. Even a for-profit business may have circumstances that require volunteer help. In either case, management owes the same standard of care to volunteers that they do to paid employees. Can they rely on workers' compensation to provide the necessary insurance for volunteers?
That depends on several factors and the first one will be how serious the volunteer commitment is. The person who volunteers for a couple of days each summer to run the concession stand at the YMCA baseball tournament probably isn't going to qualify under workers' comp.
But what about an organization that provides tutoring to underprivileged kids and the same tutors return year after year? A court is much more likely to define their relationship to the organization as being that of an employee.
Another determining factor is whether the volunteer is being compensated. Before you immediately think that's a contradiction in terms, keep in mind that courts can take a broad view of what compensation is.
An unpaid intern can be getting compensated with experience for their resume. What if there's a free membership of some kind attached to the volunteer work? Or it could be something as basic as the volunteers all getting free lunches and a free T-shirt.
It's imperative that organizations understand whether or not workers' comp will cover their volunteers so they can determine if they need additional liability coverage. When a volunteer falls under workers' comp, they also lose the ability to sue.
Signing a waiver often does not stand up in court—it can still be decided that the organization should have provided a better standard of care. That doesn't mean a waiver is worthless, but you shouldn't bet your organization's financial security on it.
To be sure, consult with an employment attorney to determine the most prudent course of action for your organization.