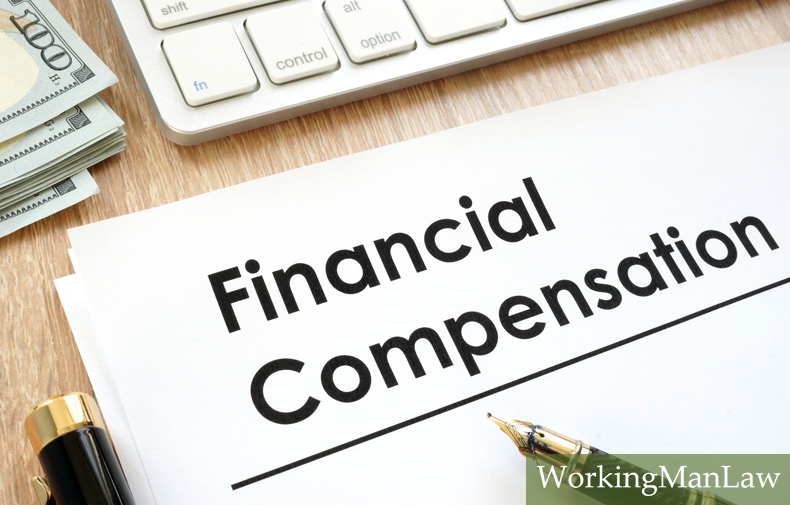 Workers' compensation is an insurance system that can provide employees hurt on the job with reimbursement for medical expenses and lost wages. It's a state-run program that is highly regulated to ensure the injured worker is protected and that the amount of money paid out meets specific guidelines. In many cases, these benefits exceed those provided under regular health coverage.
What benefits are available under workers' comp?
There are 4 types of workers' comp benefits available.
Medical cost reimbursement
Medical Cost Reimbursement (MCR) is the most common workers' comp benefit. About 75 percent of all workers' compensation benefits are paid out in MCR.
The employee would need to prove that they suffered a work-related injury or illness to receive MCR benefits through their employer's workers' compensation insurance policy.
MCR is designed to compensate employees for medical costs that result from on-the-job injuries or illnesses. You are not compensated for injuries that occurred outside of a work environment. Medical costs include medical treatments, such as prescription drugs, hospital care and medical equipment, such as a wheelchair. MCR can also include costs associated with long-term treatments, such as those needed for brain injury or spinal cord injury rehabilitation.
The amount of MCR the employee receives depends on the nature of their injury and recovery. Generally speaking, workers' compensation insurance will cover all "reasonable and necessary" medical expenses resulting from the injury.
Vocational rehabilitation
Vocational rehabilitation benefits help provide injured workers with the resources to obtain or maintain a job when they are unable to work due to their injuries. These benefits vary widely depending on the employer's workers' compensation insurance policy.
Vocational rehabilitation services can include assistance with finding a new job, returning to school or acquiring the necessary tools and training to hold down a job. It can also include job coaching. Vocational rehabilitation is often necessary for people who have sustained particularly severe injuries on the job, such as spinal cord injuries or brain injuries.
Unlike many other workers' compensation benefits, vocational rehabilitation is often paid to workers who cannot work temporarily due to their injuries. Vocational rehabilitation benefits may provide financial assistance to injured workers while they're unable to work and need help adjusting to their new reality after an injury. The state may also provide psychological rehabilitation if a worker has suffered a work-related mental health injury.
Lost wages and disability benefits
Lost wages and disability benefits are intended to compensate for lost earnings following an injury. The amount to be paid is calculated according to the nature of the injury and the length of time the injured worker is unable to work. What's more, the total amount the injured worker can receive is capped by state law.
These benefits are separated into 4 categories, depending on whether the disabilities are total or partial and temporary or permanent:
Temporary partial disability (TPD) benefits. TPD means that you have a temporary disability, but you can return to work with certain restrictions in place. For instance, you might need to work part-time or in a different capacity while you're recovering from your injury. Benefits are calculated by subtracting the worker's current weekly wage from two-thirds of their average weekly wage before their injury.


Temporary total disability (TTD) benefits. TTD means that you are unable to work, but only for a limited amount of time. Benefits are paid during the period of disablement and are typically equal to two-thirds of the worker's average weekly wage.


Permanent partial disability (PPD) benefits. PPD means that you have a permanent disability, but you're still able to work in some capacity. Benefits are typically two-thirds of the worker's average weekly wage.


Permanent total disability (PTD) benefits. PTD means that the injury is so extensive that you can no longer work in any capacity. Benefits are typically two-thirds of the worker's weekly wage at the time of the injury for life. However, benefits may be terminated in some states when the worker reaches the official retirement age.


Death benefits
Death benefits are awarded to survivors of those who die due to an injury or illness suffered at work. Death benefits are usually paid every 2 weeks and are generally two-thirds of the worker's average wage (similar to disability benefit amounts).
Payments are divided among dependants, who can receive compensation until they're no longer eligible.
Spouse. Eligible until death or when they remarry


Dependent child. Eligible until they turn 18 or 25 (if enrolled in school)


Dependent with a mental or physical disability. Eligible until they are no longer incapacitated


These benefits may be subject to a maximum amount that varies by state.
What is not covered by workers' comp
Workers' compensation does not cover any of the following:
Self-inflicted injuries. Most workers' comp safety laws limit coverage for self-inflicted injuries caused by someone's intentional actions.


Off-the-job injuries. Workers' compensation covers injuries and illnesses sustained in the workplace or while performing work-related duties only and doesn't cover injuries sustained at home or elsewhere away from work.


Pain and suffering. Workers' compensation does not include suffering and pain, and you cannot sue your employer after you accept workers' compensation benefits. If you want to seek compensation for pain and suffering, you must file a personal injury lawsuit against a 3rd party. Such a lawsuit might be appropriate if the negligence of a property owner or equipment manufacturer caused your injuries.


Punitive damages. Workers' comp does not cover punitive damages. However, punitive damages may be available against employers who engage in negligent acts.


When to contact a workers' comp attorney
The process of workers' compensation benefits can be challenging. An experienced workers' compensation attorney understands the laws and filing deadlines and can help you protect your rights. Before you accept any workers 'compensation settlement consider consulting an attorney to ensure you receive the maximum compensation for your injury.