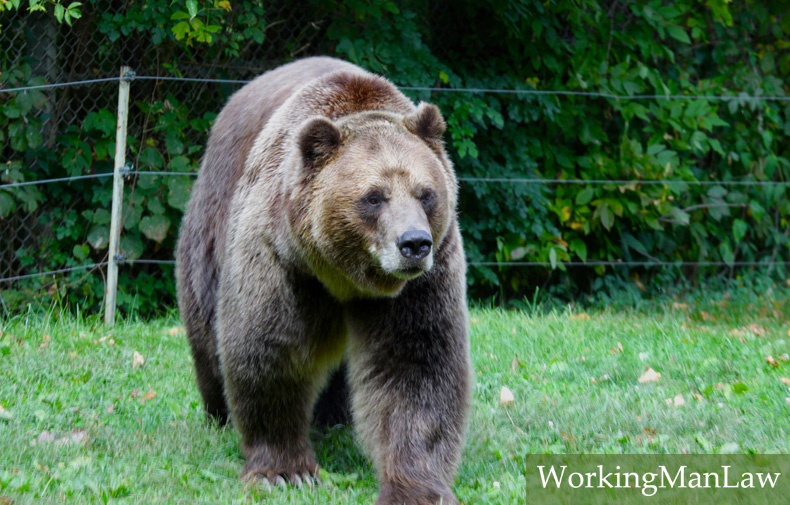 In May of this year, a YouTube video showing a wild bear walking through a hotel lobby in Colorado went viral. In the video, we see the bear explore the lobby as a frantic employee tries to call for help.
Fortunately, the bear seemed curious more than anything and didn't appear to be a threat. But what if the employee had been attacked and injured by the bear? Would a bear attack be covered under workers' comp insurance?
Under workers' compensation laws in Colorado, most employers must have a current policy of insurance or self-insurance to protect their workers in the event of an on-the-job injury.
Although this is not a common scenario most people face in the workplace, workers in a number of industries are injured or bitten by animals every year.
Below we'll discuss what you should do if you're injured by a bear (or any animal) at work and how to receive workers' compensation.
Reasons bears come into populated areas
The main reason why bears come into populated areas is for food. Bears have a keen sense of smell and can detect the scent of food from more than a mile away.
With shrinking natural habits and food supplies, it's not surprising that bears are attracted to populated areas where garbage cans and dumpsters provide a tempting source of plentiful food that is regularly available.
What to do if you encounter a bear at work (or anywhere else)
If you're ever in the unfortunate position of coming face-to-face with a bear, try the following tips:
Talk to the bear in a calm voice. This lets the bear know you're human and not just another animal.
Don't cower. Stand upright so you're as close to the bear's height as possible.
Don't make any sudden movements, and don't scream. Bears don't typically attack humans unless they feel unsafe. If you suddenly move or scream, the bear may feel under threat and is more likely to attack.
Move away slowly while looking them in the eye. It's better to edge sideways than backward, when possible, but whatever you do—don't run. This will instinctively make them want to chase you, and bears are fast runners.
Remember that bear attacks are rare, and when bears do attack, it's often because they feel under threat. If you can remain calm and follow these tips, you're much more likely to make it through an encounter with a bear without suffering an injury.
What to do if you're injured by a bear (or any animal) while working
If you're injured by an animal at work, it's important that you take the following steps:
Seek medical attention. Always seek medical care as soon as possible after any work injury. In order to receive workers' compensation, it's vital that your injury can be tied to an event at work. Follow all of the doctor's orders to ensure you remain eligible for compensation.
Report the injury to your employer. Tell your employer about your injury as soon as possible. Colorado law requires that you make a report within 4 days in order to receive workers' comp benefits, preferably in writing.
File a workers' comp claim. Under Colorado law, workers have up to 2 years from the date of their injury to file a workers' comp claim, but the sooner you file, the better.
Talk to a workers' comp attorney if your claim is denied. Legitimate workers' comp claims are denied every day. If you believe you're entitled to workers' comp benefits and your claim is denied, talk to an experienced workers' comp attorney who can explain your rights.
Workers' comp benefits cover injuries from animals—even bears
Colorado workers' compensation is a no-fault system, which means that you don't have to prove your employer was at fault for your injury to receive workers' comp benefits—you only need to prove that your injury occurred at work or while performing your work duties.
When an employee suffers injuries from an animal bite at work, Colorado workers' compensation provides benefits to cover the cost of:
Medical expenses. This includes reimbursement for doctor's visits, surgeries, medications, X-rays, rehabilitation, medical equipment and artificial members.
Lost wages. These are typically two-thirds of your average weekly wage for a period of time that varies depending on your assigned disability.
Death benefits. These are paid to certain dependents in the event that your work injury results in death.
When to contact a workers' comp attorney
The process of filing for workers' comp benefits can be challenging. An experienced Denver workers' compensation attorney understands the laws and filing deadlines and can help you protect your rights. Before you accept any workers 'compensation settlement consider consulting an attorney to ensure you receive the maximum compensation for your injury.