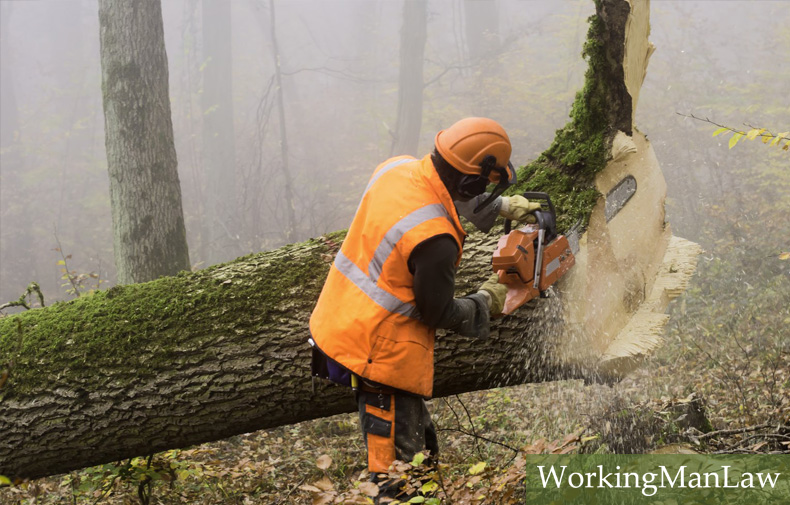 Many people face no greater danger from their daily jobs than getting caught snoozing at the desk, or an icy stare from a supervisor over a late report. By contrast, other American workers literally stare death in the face every day on their jobs, and for them a good day is one where they go to sleep healthy at the end of the day.
According to the National Bureau of Labor Statistics, there are just under 5,000 fatalities in the U.S. every year that are directly related to the job. Statistics are also kept on which of these jobs are the most dangerous and cause the most fatalities.
Here's a breakdown of some of the most dangerous of those jobs resulting in work-related injuries or death…
7. Agricultural workers
Heavy equipment used in the agriculture industry always presents the possibility of injury to workers. There is also the potential for falling equipment or slipping and falling in barns and other work buildings. Fertilizers and other noxious gases represent a hazard if they are not handled properly.
6. Iron and steel workers
Dangers of this profession generally stem from the fact that work centers around the installation of extremely heavy iron or steel beams, and quite often installation takes place at dangerous heights. There is an ever-present danger from falling beams, being struck by heavy cranes needed to lift them, or falls from the heights where they're being installed.
5. Refuse collectors
Many of the hazards related to this profession originate from the vehicles used to collect refuse, or other vehicles in the roadways where collectors are working. There's a constant danger of being hit by an inattentive driver, falling off the truck while moving from house to house, and even dangers presented by some of the material being collected, e.g. sharp objects like broken glass, chemicals, and hazardous materials.
4. Roofing workers
The dangers with this profession are fairly obvious, since it routinely involves working high above the ground, where one slip can result in disaster. This inherent danger is multiplied during any kind of bad weather such as rain or high winds. There's also a danger from constant exposure to the sun for prolonged periods, as well as muscular and spinal injuries resulting from heavy lifting and maintaining awkward positions for long hours.
3. Pilots and flight engineers
Even though these individuals are generally very intelligent, well-trained professionals, the aircraft they work with generally operate at extreme high speeds, which means there is very little time to recover from a wrong decision or any kind of flight mishap. Any kind of equipment malfunction or severe weather encountered in flight can easily result in severe injury or fatality for everyone on the flight crew.
2. Fishermen
Fisherman face obvious dangers from being out at sea for long hours, especially in times of inclement weather, where slips and falls on deck are commonplace. There's also a risk from heavy machinery on board, like fish processing equipment or deck winches, and there's the constant danger of falling overboard. In waters which are typically frigid, a deckhand who falls overboard without a life suit cannot survive for more than a couple minutes.
1. Logging workers
This profession runs neck-and-neck with the second most deadliest, fishermen, but as of 2013, loggers held the top spot in the listing of America's most dangerous professions. Some of the daily risks faced by loggers are: working with heavy equipment like chainsaws and hoisting equipment, falling or rolling timber, exposure to the weather and environmental hazards, and even injuries resulting from repetitive motion.