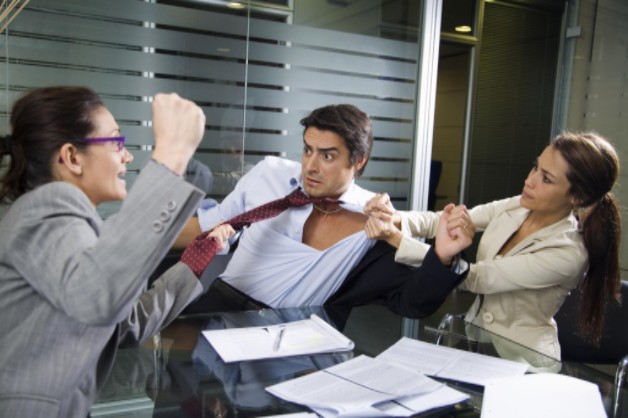 Workplace violence has significantly risen over the past two decades.
In 2015, suicide and assaults accounted for approximately 15 percent of work-related occupational injuries. There were 16,380 non-fatal cases of intentional injury which required more than one day away from work.
Below are several misconceptions regarding workplace violence.
"Metal detectors and security guards will keep us safe."
Almost anything can be used as a weapon. It doesn't have to be a gun that's smuggled past security.
"Workplace violence results in murder."
In the movies and on social media, you frequently see that domestic violence usually involves a gun and murder. This usually isn't the case in the real world.   
According to OHS ( Occupational Health & Safety):
"Homicide and other physical assaults are on a continuum that also includes domestic violence, stalking, threats, harassment, bullying, emotional abuse, intimidation, and other forms of conduct that create anxiety, fear, and a climate of distrust in the workplace. All are part of the workplace violence problem."
"You can always spot a potentially violent individual."
This isn't true. A violent person can come from any background. The workplace is put into even greater danger when we stereotype as opposed to educating ourselves about odd and suspicious behavior.
"Only crazy people commit workplace violence."
Believe it or not, most workplace violence isn't committed by people who have mental health issues. Only 5% of mentally disturbed people are actually violent, and most of them are in psychiatric hospitals or jail.
"It can't happen here."
Just because it has never happened at your place of employment before doesn't mean that it won't occur in the future. Don't be paranoid, but rather aware. Realize that it can happen at any workplace and don't ignore the warning signs.
"There's no warning or clue when it comes to a person 'snapping'."
This is generally not the case. There are normally warning signs that signal a potential problem brewing.  For example, you may notice ahead of time that someone is angry, obsessed over an individual, acting odd or making threats.
Workplace violence can be dramatically reduced if safe practices are put into place. Be aware of suspicious behavior and report any activity that seems like it could lead to a potential threat.