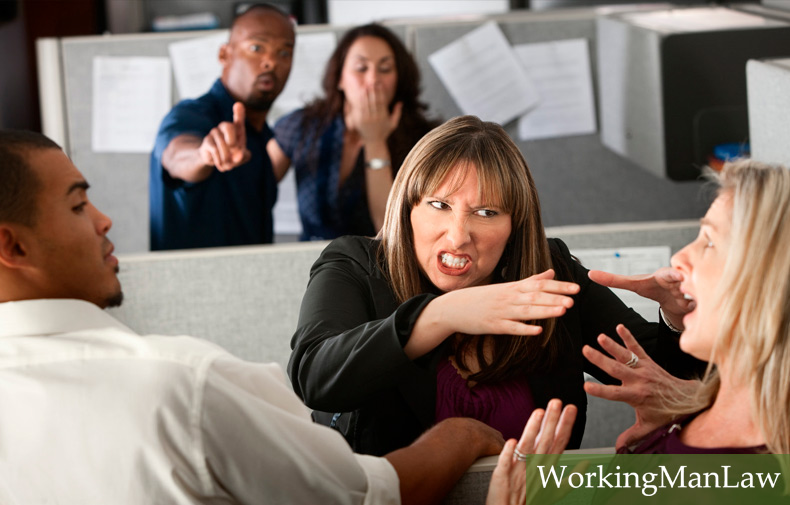 Violence in the workplace doesn't make headline news, but it's a problem that's growing.
A study by the Occupational Safety & Health Administration (OSHA) places the number of workplace violence incidents at close to 2 million every year. Roughly 450 people were fatally injured. The workplace is not immune to rising levels of anger and violence. If you're the victim, can you claim workers' compensation benefits?
The answer is a clear and resounding, "it depends." There are a lot of factors ranging from precise definitions of what "on the job" actually is to the reason for the act of violence and your employer's overall responsibility in preventing it. Every circumstance will be different and every state is unique, but here are some general principles to follow.
You must have been on the job at the time of the incident.
This is the basic requirement for any workers' comp claim, not just those pertaining to violence. For the most part, it's pretty clear-cut—if you were at the office, you were on the job. If you were commuting, you were not. If you were running an errand for your boss on the way into work, then you were on the job. If you made a personal trip to the doctor's office at 2 in the afternoon, you were not.
One important caveat here is that workers' comp boards can be strict in interpreting so-called "station to station" scenarios. The most common example is when you're leaving the office to walk to your car and get assaulted in the office complex parking lot. This is likely to be interpreted as being "off the job," unless some of the factors discussed further down work in your favor.
The reasons for the incident must have been work-related.
Not everyone in a workplace environment likes each other and it's usually not much of a secret which people have mutual antagonisms. If a fight is purely personal, then it probably won't matter if it happened in the office hallway. It will be considered an "off the job" incident. Unless, of course, one employee was an obvious loose cannon ready to explode. Which brings us to the final criteria.
Your employer needs to be negligent in providing a safe working environment.
Let's return to our example of an assault in the office parking lot. What if your employer is the one responsible for security? If your company owns the building you work in, that's probably the case and it's a game-changer in terms of workers' comp eligibility.
That fight in the hallway? What if one of the employees had a history of violence and that past was overlooked in the hiring process? It can then be argued that the employer failed to provide a basic duty of care to everyone else working for them.
Violence in the workplace is a terrifying thing and can have lasting effects that are both mental and physical. Make sure you talk to an attorney right away to assess your claim to workers' comp benefits as a part of recovery.