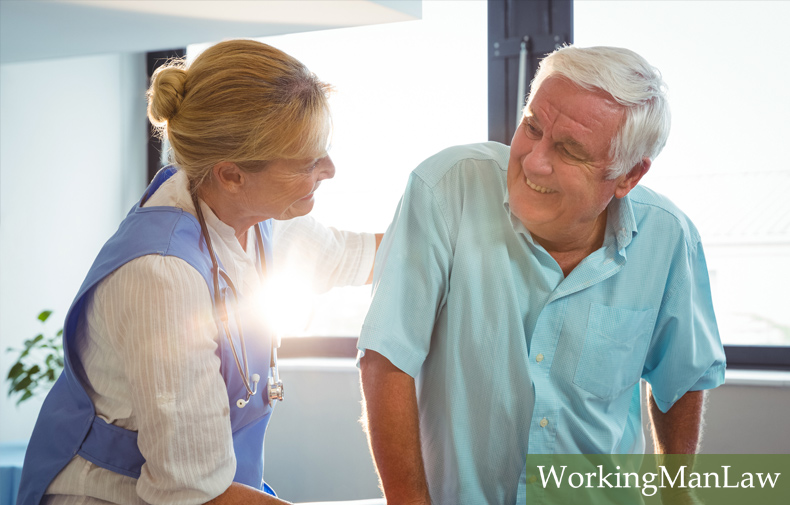 The coronavirus pandemic will have a lot of unexpected consequences in how the economy functions, both in the United States and around the world. The nature of caring for the elderly is one such change that is having profound implications in home healthcare and workers' comp for these employees.
More healthcare is being done in-home, especially among older patients. This change isn't particularly surprising—between the horror stories that have emerged about nursing home deaths in places like New York, along with the difficulties people have had getting in to see their loved ones across the country—it's natural that families would either pull their beloved elderly out of nursing facilities or simply never put them in there.
That means more home healthcare. A ripple effect of this is more claims on workers' compensation. The home health field has the highest rate of occupational injury than any other industry—higher than construction or any other high-risk area. A study by the U.S. Bureau of Labor provides corroborating data, showing that home health workers have the highest rate of days missed from work.
The injuries are what you might expect. Home health care workers suffer a wide range of muscle injuries—sprains, strains, ligament tears, etc.—that come from the responsibility of lifting patients.
These types of injuries are not always easy to directly connect to one's employment—at least not in a strictly legal sense. A back problem can build up over time and can't be tied to one specific work incident.
But COVID-19 has seen a dramatic shift in how workers' comp claims are reviewed. More and more states are changing their laws to give workers in certain high-exposure industries—healthcare being a prime example—the benefit of rebuttable presumption.
Basically, this means the employee who suffers from certain types of injuries—like muscular ones—is presumed to have been injured at work. It's then up to the employer and insurance company to rebut, or prove the injury didn't happen at work.
The change in where the burden of proof lies will often change who wins the case. That's now working to the benefit of home healthcare workers.
Even with more claims and rebuttable presumptions, the change in the healthcare landscape provides opportunity for insurers willing to step up to the plate. Key Risk, a firm based in Charlotte, NC, is one such company.
Key Risk president Scott Holbrook recently announced the firm's intention to take their home healthcare and hospice workers' comp programs national. The expansion of insurance product offerings to healthcare employers will hopefully have positive results for everyone, from workers to employees.