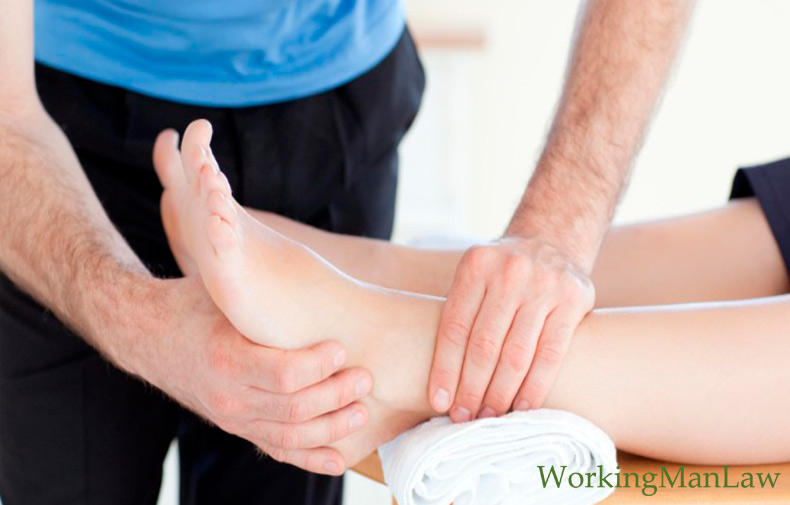 According to the Bureau of Labor Statistics, there are approximately 60,000 occupational foot injuries each year that prevent workers from being able to work.
Did you know that 80% of all work foot injuries are the result of an object that weighs 30 pounds or less? The average cost of one of these workdays lost is $9,600.
Even an employee that works a desk job can suffer a foot injury. However, some industries and types of jobs are more prone to having these accidents than others.
Industries Most Prone to Occupational Foot Injury
Below is a list of the most common risky workplaces where employees may suffer this type of trauma:
Construction. This industry is considered one of the most dangerous. There are a variety of falling objects and heavy and dangerous equipment in this type of environment. Often workers injure their feet on scaffolding or climbing ladders.
Transportation. Truckers, bus drivers, and other employees in the transportation industry often suffer from foot injuries due to excessive amounts of getting in and out of their vehicles, driving for long periods of time causing weakening of foot muscles, as well as heavy lifting. It has been shown that many individuals in this industry are smokers as well, which can lead to conditions such as Buerger's disease and peripheral vascular disease.
Food and Retail. People in these industries often stand for long periods of time which can result in possible foot injury.
Occupational Injury Prevention Tips
Below are tips to keep your feet as safe as possible while at work and avoid these types of occupational hazards:
Wear the proper protective foot gear. If you are around heavy objects and working in a warehouse type of environment, hard toe shoes are recommended.
Before climbing, make sure the ladder you are using is safe and that you are in a safe area.
No horseplay while working.
Do not carry objects that are too heavy for you.
Be aware of your surroundings and watch for objects that may be likely to fall.
For more tips on staying safe in the workplace, read our blog.