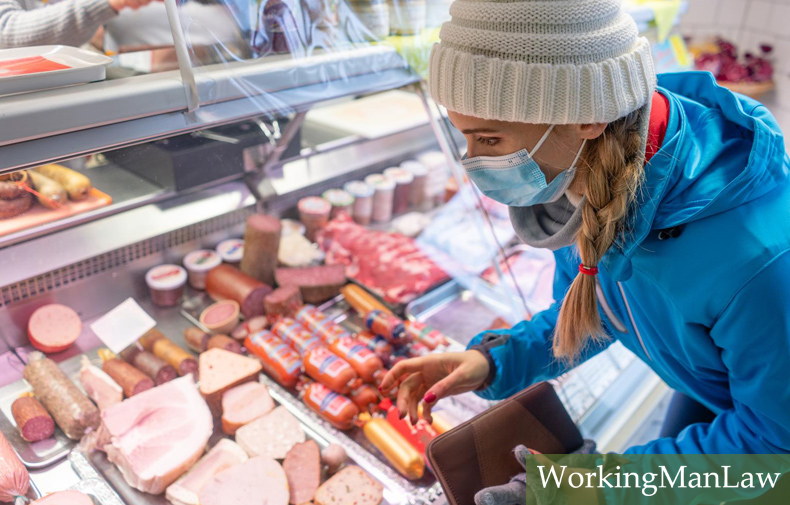 Meatpacking companies were designated as essential industries early in the COVID-19 pandemic and the subsequent economic lockdowns. The fact the industry was always open for business means that there have been no shortage of coronavirus cases. There have also been a number of workers' comp lawsuits filed. One of them, brought by Jose Tovar, was victorious in court and may have significant implications moving forward.
Tovar was working for JBS USA, a meatpacking plant near Amarillo, TX. Tovar claimed to have contracted COVID-19 through work, which would therefore make him eligible to collect workers' compensation benefits.
JBS USA disagreed, saying there was no evidence Tovar had gotten sick because of his job. His claim for 3 weeks' worth of lost wages was denied by American Zurich Insurance, the company that underwrites JBS USA's workers' comp program.
Texas Rio Grande Legal Aid (TRLA), which provides counsel for those who can't afford it, stepped up to help Tovar bring a legal action.
Tovar's case faced a considerable legal challenge. Having to establish where a virus was contracted is by no means an easy case to prove. Tovar's attorney, Christopher Benoit, called on an expert witness to help in the courtroom.
Dr. Melissa Perry is an epidemiologist at George Washington University and her recent work has included analyzing the spread of the coronavirus in the meatpacking industry. Perry testified that the high number of cases at the JBS USA plant—up to a third of the workforce—the crowding that took place in the meat processing lines and locker rooms and Tovar's exposure to coworkers who already had COVID-19, meant that Tovar almost certainly got sick because of his job.
It's important to note that because workers' compensation cases are civil, rather than legal, the case doesn't have to be proven "beyond a reasonable doubt," which is a criminal law standard. Tovar needed simply to establish that it was more likely than not that he'd gotten COVID-19 at work.
Even allowing this lower legal threshold, this was still a case that took real work and resources for Tovar to win and the calling of Dr. Perry as an expert witness was undoubtedly valuable.
The next question is whether Tovar's victory will have ripple effects across the country. As of April 2021, roughly 1 year from the beginning of the lockdown, the meatpacking industry has reported roughly 50,000 coronavirus cases across the country with about 250 deaths. If Tovar's case represents any kind of precedent, there is now a legal path that these workers can pursue.
Lawyers involved with the workers are hopeful. David Muraskin, who works for the Public Justice's Food Project, says "the fact that a company can be held accountable for conditions in the pandemic is an immensely important finding."
The question for other workers nationally is how relevant Tovar's specific experience will be to their case. How much of the working conditions in JBS USA apply across the industry? Do other companies have the same percentage of their workforce testing positive for COVID-19?
Those are the issues that, along with the precedent set by Tovar, will help decide individual cases moving forward.